Mobile UC for Nortel users can lead to higher business performance.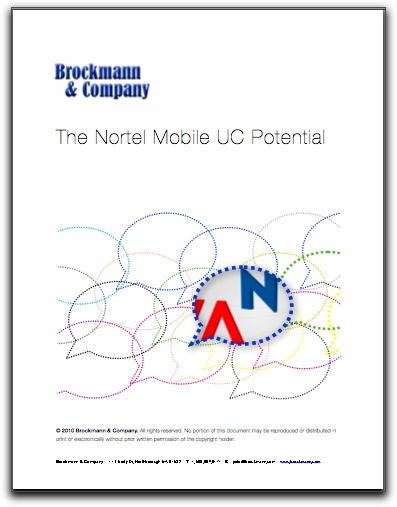 Nortel-brand IP PBX users should read this report before implementing mobile UC strategies.
Mobile communications is a pervasive component of modern business. Half of the Mobile panel have at least 85% of their employees using mobile phones and mobile communications is very important to the success of 66.% of the Mobile panel, representing some 349 organizations from around the world. Despite it's importance, few actually rated their satisfaction with the mobile communications experience highly. There is plenty of room for improvement in policies, processes and support for mobile applications.
Among Nortel users which account for 12% of the Mobile panel, mobile communications is roughly equally important as for most panel members. Satisfaction with the mobile phone and mobile operator remains consistent with the bulk of the Mobile panel, yet in terms of corporate initiatives in support of mobile service such as priority and policies, Nortel users are the least satisfied. This shows the pathway to improving business performance, which is well-below the standard measured among Top Performers.
This report is the seventh in a series about mobile UC in business. The experience of users of Nortel-brand IP PBX products are compared with the Mobile Panel. Recommendations are developed from the comparison of Top Performers. Over the past decades, mobile communications improved a users' reachability, but reduced accountability and convenience to mobile users and their coworkers back in the office. Mobile UC is the next major improvement for unified communications. Mobile UC solutions available today can overcome these weaknesses by delivering accountability, which allows the enterprise IT department to analyze statistics on usage, apply policies for lowest cost, storage and security and by delivering convenient communications between coworkers, regardless of whether they are mobile or at their desk.
The Mobility Index provides a refined view of the scope of technological deployments which reveals how Top Performers have significantly better operating results than Poor Performers. Top Performers had higher business performance:
41% more customer satisfaction

114% more employee satisfaction

87% more green-ness

43% more financial strength

21% greater customer responsiveness, and

14% more revenue per employee
than Poor Performers. Although it may have been true at one time, mobile communications technology alone does not lead to higher business performance. Only the integration of mobility services into the mobile employees value-creating processes is the key to unlocking the higher productivity attributable to mobile UC, and the key element of that integration is the extension of classically-defined enterprise communications into the mobile service domain.
The gap between Top Performers and Nortel users is broader than between Top Performers and Poor Performers, indicating that the particularly solid opportunity to use mobile UC to improve business performance is great among Nortel users. Recommendations reflect the technology, organizational and processes deployed and consistently used by the Top Performers and not used by Nortel users. These include investing in mobilizing critical enterprise applications, deploying mobile-savvy support staff and resources and adopting qualification procedures for new devices and new classes of devices. Taking steps to mobilize more of the employee-base and enabling more services such as mobile email and SMS are excellent first steps but should also include adoption of mobile UC-specific solutions for extending enterprise telephony features into the mobile service domain.
---
This report is available for US $99.99. Using PayPal, a division of eBay as the purchasing processor, your credit card and payment details are safe and secure. Once payment is made, we will email the purchased report within 24 hours. You may call or email us for a more rapid response.
| | |
| --- | --- |
| To license this report for $99.99, click on the BuyNow button. | {nicepaypal:buy|99.99|The Nortel Users' Mobile UC Potential|||||1||field;CompanyName;Enter your company name;60} |
---
The Executive Summary of this report is available for free download from this page. A special attachment download box appears at the bottom of this article for logged in users. Learn about the account creation and download process here. Review our Privacy Policy. Create your account, login and download.